Motorized Butterfly Valve – BFV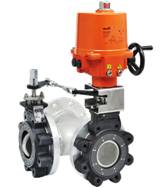 Standard, grooved and high performance butterfly valves to meet the wide range of commercial and industrial HVAC applications.
Advanced seat and disc design(s) provide a bubble tight shutoff capability at each valve's rated temperature/pressure while maintaining a low seating torque.
Belimo standard and industrial NEMA 4X actuators to ensure control in a variety of environments.
Standard performance HD/HDU series incorporates a five bushing design to isolate the valve shaft from the body that results in better control.
Stainless steel disc and shaft are standard for superior strength, durability and long lasting operation.
Applications
Butterfly valves are available in sizes from 2" to 30" which fulfills the requirement of commercial and industrial HVAC applications requiring positive shut-off for liquids. Applications include chiller isolation, cooling tower isolation, change-over systems, large air handler coil control and bypass including related process control.
Download Additional Data